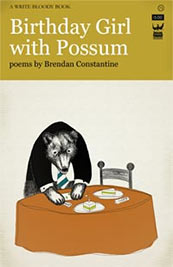 Brendan Constantine's second book, Birthday Girl With Possum, was released by Write Bloody Publishing in 2011. One of the most exciting indie-companies in any field, WB has been re-inventing the business one book at a time, bringing the public closer to the writers of the day.
Click here to purchase Birthday Girl With Possum
Birthday Girl with Possum contains heartbreaking and hilarious poems reaffirming our youngest conclusions about the world. It is a birthday card from the phenomenal world to our wildest selves. No approach to writing (odes, codes, lectures, letters, tests and attendance sheets) is left unexploited as a means to poetry.
Praise for Birthday Girl With Possum
"What is this, then? It's not surrealism, though it contains certain of surrealism's pleasures, not Dada—it makes too much sense, but not common sense. It's not realism, except on a high level, or subterranean level. It's not a confab of dreams, not fuzzy, misty, like dreams—this has a crispness. It crackles. It's not wisdom of course, except when it is. It's surely not sanity, at least not the approved sort, not licensed. It is no ordinary madness. It could only be the production of one who has about him something of the jester and shaman, scholar and scalawag. It could only be Brendan Constantine bestowing upon early 21st century L.A. his beatific mischief, his sly, affectionate wit."
— Suzanne Lummis, Poet & creator of the Los Angeles Poetry Festival
"Dazzling and addictive, incessantly inventive, delicious in the mouth: Brendan Constantine's poems burst with audacity—now luscious, now sharp as the breakage they frequently invoke / evoke. Any barrier between one thing / one style / one category and another, any distance between real and surreal, linear and associative, page and stage, comic / tragic, creepy and sublime— and the gaps we imagine between entertainment and profundity, between pleasure and real pain. These are poems that explode: impeccably."
— Sarah Maclay, author Music For The Black Room
"Constantine climbed the jagged mountain in search of a beautiful view. Was instead slammed in the head with a cartoon of a dream crooning threnodies to a "garden of moths," Emmett Till and Night, itself. All died mysteriously or not. Then, Constantine, addled beyond the capacity to discern between love poems and elegies, climbed down the jangled mountain with lyrics caught between his teeth, on his tongue, lodged in his throat. Hey reader: It's your birthday. See how he opens his mouth to sing?"
— Doug Kearney, author of The Black Automaton and Fear, Some
"After reading Brendan Constantine's Birthday Girl with Possum / it becomes clear that he loves the art of poetry so much / he's probably sleeping with it / You will live and die by these poems / though I don't recommend the latter / Your cat will definitely die / The dog is not safe / There is a brain / It is cracked wide open / In the space, convention is cherished and not necessary / in the space you will laugh like you've always been a girl / It is this space that these poems inhabit / like undiscovered water between the sand and the oil."
— Rick Lupert, author of Death of a Mauve Bat